Elopement Packages
Please know that we do not provide customized decorations or flowers.
Our platforms are designed with Love, Marriage & Nature in mind.
November ceremonies will be performed at our Indoor Wedding Room unless weather permits.
Our Outdoor Wedding Pergola
.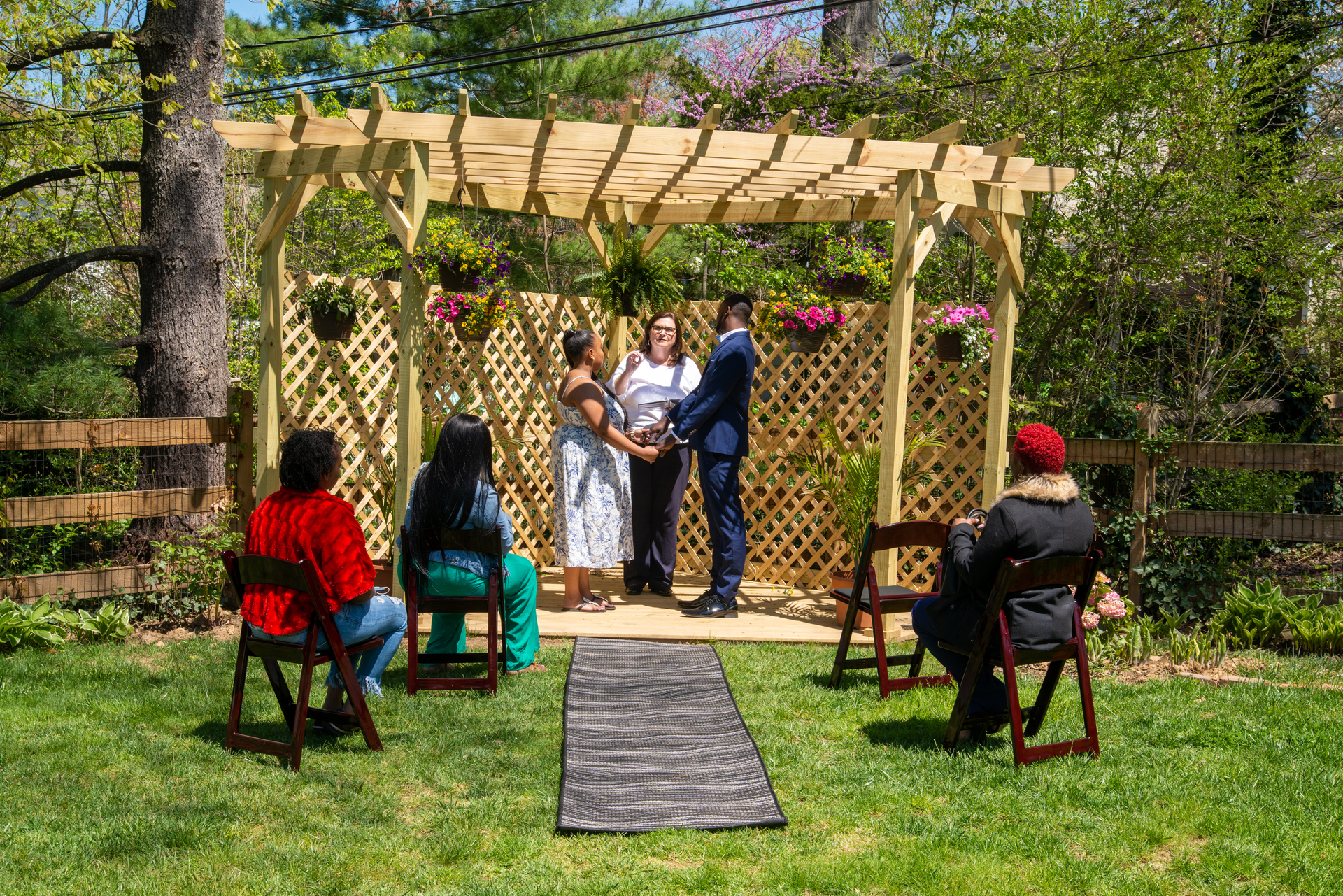 Our Indoor Wedding Room
2023 Appointments
Please review the online calendar below to see our availability
CEREMONY PREPARATION & PROCESS
Our ceremonial spaces are decorated and wedding-ready!

Arrive no earlier than 5-10 minutes before your scheduled appointment.

Couples are emailed an online contract, invoice, and questionnaire before the wedding date and time.

Please arrive already dressed for your ceremony.

IMPORTANT: YOU MUST BRING YOUR DELAWARE MARRIAGE LICENSE WITH YOU!

DELAWARE couples must provide their own two witnesses to sign the license (minimum 18 years of age)

Three is a car limit (3) for parking at our location

Couples that arrive 30 minutes or more past their scheduled appointment will be charged a $50 late fee before the ceremony starts.
The Packages
Package A: $115.00 Marriage License Signing Ceremony (20 minutes) This is an abbreviated ceremony.
ACQUIRE YOUR MARRIAGE LICENSE FROM ONE OF THE CLERK OF THE PEACE COUNTY OFFICES IN DELAWARE before YOUR APPOINTMENT WITH US. WE DO NOT PRODUCE THE LICENSE.
In accordance with The Delaware Code Online Title 13 Marriages may be solemnized or contracted according to the forms and usages of any religious society or in an entirely secular manner. No marriage shall be solemnized or contracted without the production of a license issued pursuant to this chapter.
While no specific words or phrases are legally required to be used in the wedding ceremony, couples still must make/exchange their Declaration of Intent, and the officiant must make the Pronouncement.
The Declaration of Intent is part of the ceremony where the couple verbally declares that they wish to enter into the marriage contract and intend to legally commit to one another.
This is often heard in the form of, "Do you take ______ as your lawful/wedded _______?" and "I do," but can be worded any way the couple prefers.
The Pronouncement or Proclamation is part of the ceremony where the officiant pronounces the couple as officially and legally wed.
This is often heard as, "And now, with the power vested in me by American Marriage Ministries, I pronounce you…" Again, this official proclamation can be made in any way the couple wishes.
This service includes the following.
EVERY OTHER SATURDAY, 11 am, and 12 pm
An abbreviated ceremony performed by the officiant that includes: the declaration of intent (exchange of "I DO" vows), and the pronouncement.

Completion of the marriage license documents and an official signature of the ordained officiant.

Couples must bring their own two witnesses with them to witness the ceremony and sign the license

The legal filing of the license with the Clerk of the Peace
This service is limited to Delaware residents only and must be performed in Newark, Delaware, the home base of Delaware Elopements.
By appointment, arrive at our location with your two witnesses. We will perform the short ceremony to include the requirements listed above. If you plan to change your name, you will need to acquire a Certified Marriage Certificate from the Clerk of the Peace and follow the simple instructions/options.
WE WILL RESERVE YOUR APPOINTMENT FOR 48 HOURS.
TO AVOID "NO-SHOWS," PAYMENT IS REQUIRED WITH YOUR RESERVATION.
Package B: $499- Simple Elopement (45 minutes) - at our location TUESDAYS ONLY (12 - 4 pm) November - April: Indoor Wedding Room - the two of you & up to 4 witnesses = 6 total (NO EXCEPTIONS) May - October: Outdoor Wedding Pergola - the two of you & up to 8 witnesses = 10 total (NO EXCEPTIONS)
Inclusions:
rental of the outdoor "Wedding Pergola" or indoor "Wedding Room" (seasonal)

professional wedding officiant

semi-customized wedding ceremony

decorated wedding chairs set up prior

champagne toast for the couple

two wedding cupcakes for the couple, made by Cakes by MiMi

the marriage license is completed and signed (3 copies: yours, ours, clerk of the peace)

legal filing of the marriage license handled on your behalf

a keepsake of the ceremony presentation
Package C: $849 - Elopement Bundle (1 hour) - at our location THURSDAYS ONLY (12 - 4 pm) November - April: Indoor Wedding Room - the two of you & up to 4 witnesses = 6 total (NO EXCEPTIONS) May - October: Outdoor Wedding Pergola - the two of you & up to 8 witnesses = 10 total (NO EXCEPTIONS)
Other Locations: one of our recommended wedding venues or another location of your choice where more guests may be permitted
Email us at info@de-elopements.com to inquire about having your Elopement Bundle at a different location and ascertain our availability for a date you have in mind. Please provide us with your vision, the First & Last name for both of you, your phone # and the best time to reach you! We will contact you via phone to discuss all possibilities!
Inclusions:
rental of the outdoor "Wedding Pergola" or indoor "Wedding Room" (seasonal)

professional wedding officiant

1 hour of professional wedding photography

semi-customized wedding ceremony

decorated wedding chairs set up prior (if onsite only)

champagne toast for the couple (if onsite only)

two wedding cupcakes for the couple, made by Cakes by MiMi

(if onsite only)

the marriage license is completed and signed (3 copies: yours, ours, clerk of the peace)

legal filing of the marriage license handled on your behalf

a keepsake of the ceremony presentation